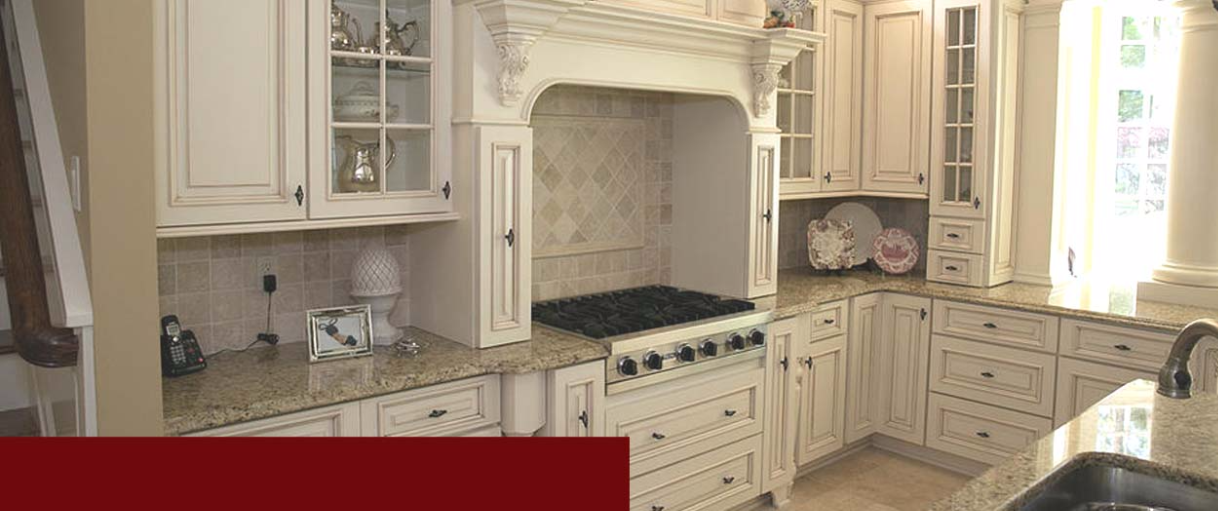 "We can't say enough about how wonderful it was to work with Cindy and Signature Kitchens -- she guided us through each and every decision and was extremely patient throughout the whole process. She was very clear and straightforward with us along the way, keeping us posted on the timing of things, and when the cabinets did arrive, her team did an amazing job of putting everything in place and making it all look spectacular. We're so pleased with the look of the cabinets, and there were no unexpected surprises along the way—the whole process was smooth and fantastic. We're thrilled with our new kitchen and would be happy to recommend Signature Kitchens to anyone (in fact, we already have!)"
Jessica M.
Maplewood, NJ
Working with Cindy was a pleasure. We went in with a concept and rough architectural drawing and ended up with a kitchen that still gets repeat compliments from our friends. Cindy immediately understood the concept we were looking at and turned it into a reality. She worked with us to make changes to ensure fit and flow of the design. The entire process was smooth, without stress from design to installation. Cindy's design skills, style and patience made the difference between a good looking kitchen to great one. We are so pleased.
Debbi and David J.
Westfield, NJ
A remodel of a kitchen is a huge undertaking for even the heartiest of souls. There are so many decisions to make, both aesthetic and financial, that at times it can be very overwhelming. I know I couldn't have done it without Cindy's help. I came to value her opinion on everything from cabinets, granite slabs and tile to cabinet knobs and grout color. She was always accessible and also available to come with me whether to the granite yard or to the tile store to help me with my selections. On her end, she worked seamlessly with my contractor to help things move along as quickly as possible. Her advice and suggestions allowed me to make my own smart choices and to end up with a kitchen that I absolutely love!
Denise M.
Cranford,NJ
Cindy was a pleasure to work with and saved my sanity many times. She had great ideas and was very patient. She even had pretzels and coffee for my husband while I agonized and obsessed over everything. The contractor had a problem installing one of my cabinets and Cindy just said "don't worry. We'll fix it" Cindy contacted the manufacturer, they sent someone out to my house and they fixed it. We also had to send one of the cabinets back to the manufacturer and Cindy handled that as well. I was very pleased with the whole process. I love my kitchen!
Carolyn L.
Cranford, NJ
We had the pleasure or working with Signature Kitchen and Bath for the gut rehab of our 25 + year old kitchen. The job required an entire redesign of the kitchen layout utilizing the existing space. The time given and convenience afforded for the array of decisions required for the layout, cabinet selection and blueprint reviews was priceless. The expertise and undivided attention to every detail saved valuable time and alleviated the stress of selecting precisely what I wanted my dream kitchen to be. The quality and customization of cabinet design was well worth using Signature. We got what we paid for and so much more….quality service, attention to detail and design, expert advice, on time delivery and installation and, best of all, an absolutely beautiful Kitchen…..
Valerie G.
Cranford,NJ
We LOVE our new kitchen! Cindy of Signature Kitchen & Bath was very helpful in helping us decide on the right cabinets and countertop. It all came out even better than we had hoped. We highly recommend Signature Kitchen & Bath to anyone looking to redo their kitchen!

Nadine & Brian
Kenilworth, NJ
"We were extremely pleased with the services provided by Signature Kitchen & Bath. Cindy and her staff went above and beyond our expectations and met with us as needed to guide us through the whole renovation process. The expertise, creativity and level of detail options presented to us were outstanding which made the best possible use out of our space. The Signature staff was very professional and worked closely with us in the selection of cabinets, flooring, granite, backsplash and lighting. The overall design, layout, functionality and aesthetics of the kitchen are wonderful and we couldn't be happier with the end result. We really enjoy cooking and entertaining in our new kitchen and highly recommend utilizing the services of Signature Kitchen and Bath."
Lynn and Tom Barbone
Kenilworth, NJ